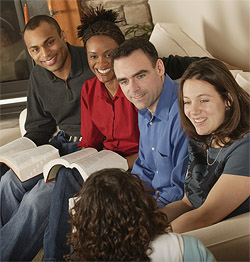 As a part of our desire for intentional relationships with God and other people, we believe small groups is a great way to make that happen.
If you are interested in becoming a part of a small group, let us know what days and times work for you, whether you would prefer an adult or family oriented group and any other information that might help us, we'll try to connect you with a group that works for you. For more information please contact Pastor Jared via
email
or at 780-926-4261.
Small groups is a relatively new part of our church. We are planning on running additional leader training sessions to equip small group leaders with the tools and resources they need to help their small group succeed. Thanks for your patience as we see this ministry grow.